Bridging Community Gaps Photovoice
Philippe Bloch, Lyn Legere, Lori Ashcraft, Sharon Prichett, Tracy Woods, Cynthia Piltch, and Zlatka Russinova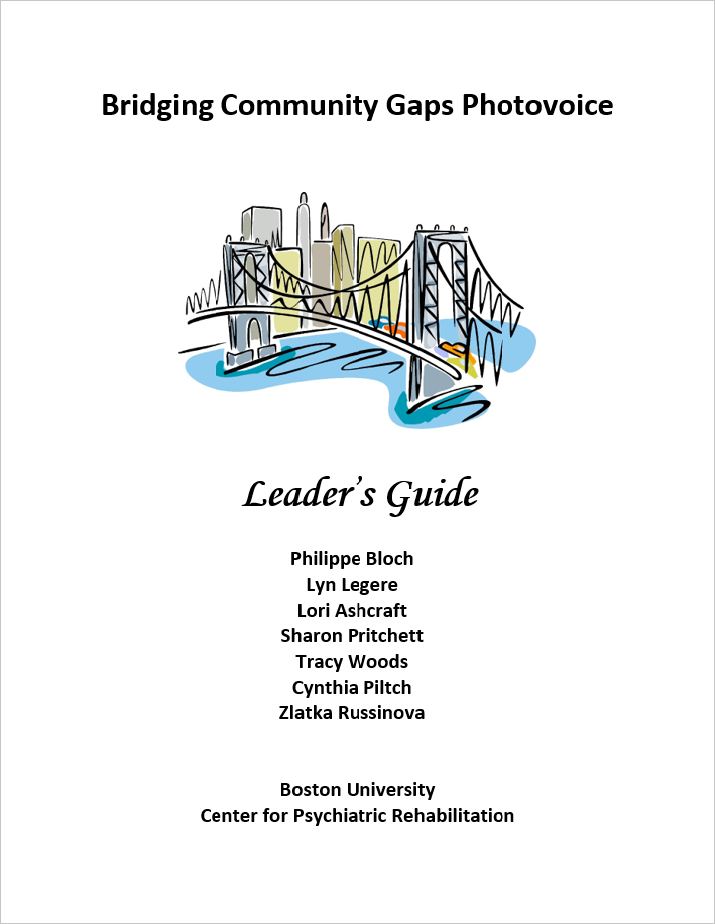 Curriculum / Workbook (PDF)
Bridging Community Gaps Photovoice
Philippe Bloch, Lyn Legere, Lori Ashcraft, Sharon Prichett, Tracy Woods, Cynthia Piltch, and Zlatka Russinova
Audience
Recommended for educators, students, practitioners, supervisors, trainers, and consumers—anyone interested in understanding and serving the needs of persons with psychiatric disabilities. Valuable resource for staff development and for classroom use in courses in rehabilitation counseling, psychology, psychiatry, psychiatric nursing, and social work.
Additional Materials for Purchase
Description
As part of an effort to increase community participation for the people we serve, we have developed a new program entitled "Bridging Community Gaps Photovoice (BCGP)," which aspires to enable people who have experienced mental health challenges to feel more connected: with their friends, neighbors, and family; with the places they live; and with the broader society.
The BCGP program integrates group sessions and individual peer support with Photovoice and community asset-mapping methodologies. The Center for Psychiatric Rehabilitation at Boston University has been using Photovoice successfully as a therapeutic component of complex psychosocial interventions. Photovoice is an innovative participatory research tool that has become a powerful instrument for promoting recovery and social justice in the lives of people with psychiatric conditions.
The BCGP Program gives people practical tools to increase their awareness of their current roles in community, appreciate the benefits of community, and develop plans to enhance their level of community participation. The BCGP Program seeks to help people take advantage of the opportunities available to them, explore new ways to feel connected, and increase their sense of belonging in their communities of choice.
The BCGP manual, consisting of a Workbook and a Leader's Guide, has been developed, piloted, and rigorously tested through several rounds of classes. This curriculum may be delivered easily at outpatient mental health and rehabilitation settings as well as peer-run programs and centers.
NOTE: The Leader's Guide set includes a copy of the workbook.
Citation: Bloch, P., Legere, L., Ashcraft, L, Pritchett, S., Woods, T., Piltch, C. & Russinova, Z. (2021). Bridging community gaps photovoice. Boston, MA: Boston University Center for Psychiatric Rehabilitation.
Product Details
Leader's Guide
PDF file: 237 pages
Published: 2021
ISBN: 978-1-878512-69-7
Workbook
PDF file: 96 pages
Published: 2021
ISBN: 978-1-878512-70-3
Table of Contents
Introduction
Class 1: Overview of the Community Photovoice Class
Class 2: Community Membership
Class 3: Photovoice
Class 4: Development of Photovoice Narratives
Class 5: Setting My Community Goal
Class 6: Community Asset Mapping
Class 7: Personal Asset Mapping
Class 8: Prejudice and Discrimination as a Barrier to Community Participation
Class 9: Other Barriers to Community Participation
Class 10: Developing My Community Action Toolbox
Class 11: My Community Action Plan
Class 12: The Importance of Community Participation
Booster Sessions 1-3
Appendices
Reviews
Currently, there are no published reviews for this product. If you would like to write an endorsement, please send it to: cprbooks@bu.edu