Voices of Recovery
Sue McNamara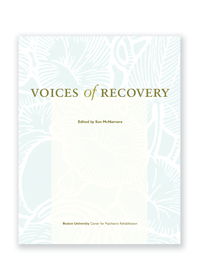 Book (PDF)
Voices of Recovery
Sue McNamara
Audience
Recommended for consumers, family members, practitioners, trainers, administrators, and members of boards of directors. Recommended for reading by itself or to accompany The Recovery Workbook to provide models for the recovery process and to inspire hope for anyone connected to the mental health field.
Additional Materials for Purchase
Description
Voices of Recovery consists of two different types of "voices."  The first "voice" is a selection of recovery stories that were published in the Coping With column of the Psychiatric Rehabilitation Journal from the years 2000 through 2008. The second "voice" is a collection of Photovoice projects, which includes a photograph and a short narrative explaining the personal meaning behind the picture from the photographer's point of view. These inspirational contributions remind us that recovery is not only possible–recovery is real!
Citation: McNamara, S. (Ed). (2009). Voices of recovery. Boston, MA: Boston University, Center for Psychiatric Rehabilitation.
Product Details
PDF file: 133 pages
Published: 2009
ISBN: 978-1-878512-23-9
Table of Contents
Preface
Chapter 1: Recovery
Chapter 2: Increasing Knowledge and Control
Chapter 3: Managing Life's Stresses
Chapter 4: Enhancing Personal Meaning
Chapter 5: Building Personal Support
Chapter 6: Setting Personal Goals
Reviews
Click here to read the following review.
Daboud, C., & Subramanian, P. (2010). Review: Voices of recovery. Metapsychology Online Reviews, 14(3).
…Voices of Recovery is the second edition, and what an edition. The stories are readable and remind most of us where we came from in the world of mental health. These are our voices. People we have known and places that we have been. Why is this important? Because, in my forty years of being a recipient of public mental health services my history has never been acknowledged or celebrated. My life in the mental system was, and still is, seen as less than or non important. Yet, it is the life I had and still have. The people in the book are real people who tell real stories and have real histories. I have purchased and distributed hundreds of the first book, Experience of Recovery. I am sure that I will do the same with this new book. Thank you to the people in this book and Boston University's Center for Psychiatric Rehabilitation for seeing this great gap in mental health literature–telling the histories and stories of real people with psychiatric conditions. Thank you for fine work and thank you to the beautiful people who participated in this book.
Moe Armstrong, MBA, MA, Founder Vet To Vet and Peer Educators Project
…We are all woven into the tapestry of community, the threads of our lives strengthening each other. Voices of Recovery reminds us that the mutual threads of those in recovery from mental illness can be powerful reminders of how high the human spirit can soar. These voices should be heard wherever there is doubt.
Larry Fricks, Director of the Appalachian Consulting Group and Vice President of Peer Services for the Depression and Bipolar Support Alliance
…Voices of Recovery provides a wonderful opportunity to understand the process of recovery from a first hand perspective. It offers a very intimate view of the process, the challenges, and the meaningful results that awaits those who are willing to take the journey. The photographs provide an even deeper glimpse of key aspects of the journey and give the reader visual representations of what each story expresses. I highly recommend this book for anyone who wants to understand the journey of recovery and how to support the process.
Lori Ashcraft, PhD, Executive Director, Recovery Opportunity Center
…I'm so pleased that a new edition of Voices of Recovery has been published, and at a time of both incredible promises and overwhelming challenges. The voices that speak in these pages tell individual stories about recovery in words and images, but also join forces with the collective mantra that "Recovery is Real!!"
Lyn Legere, MS, Director of Education and Peer Support, Transformation Center