Combating Prejudice and Discrimination through Photovoice Empowerment
Cheryl Gagne, Alexandra Bowers, Philippe Bloch, Kathy Furlong-Norman, Sue McNamara, and Zlatka Russinova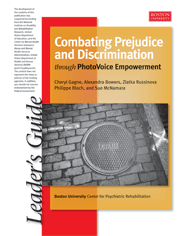 Curriculum / Workbook (PDF)
Combating Prejudice and Discrimination through Photovoice Empowerment
Cheryl Gagne, Alexandra Bowers, Philippe Bloch, Kathy Furlong-Norman, Sue McNamara, and Zlatka Russinova
Audience
Recommended for educators, students, practitioners, supervisors, trainers, and consumers—anyone interested in understanding and serving the needs of persons with psychiatric disabilities. Valuable resource for staff development and for classroom use in courses in rehabilitation counseling, psychology, psychiatry, psychiatric nursing, and social work.
Additional Materials for Purchase
Description
As part of an effort to confront prejudice and discrimination, the Center for Psychiatric Rehabilitation at Boston University is using Photovoice, an innovative participatory research tool that has become a powerful instrument for social justice to expose and combat prejudicial attitudes and discriminatory behaviors in the lives of people who experience psychiatric disability.
As demonstrated from the images and narratives, Photovoice offers an innovative participatory strategy for including more people with mental illness in research, education, and advocacy projects. The Photovoice process lays out multiple stages for defining the goals of a project, anticipating an audience, taking pictures and telling stories about them, evaluation, and presentation.
This curriculum, consisting of a workbook and a leader's guide, has been developed and piloted through several rounds of classes. The workbook leads students through the Photovoice process step-by-step, while the leader's guide provides comprehensive instruction in leading Photovoice workshops. This curriculum will ensure that this Photovoice intervention may be delivered easily at outpatient mental health and rehabilitation settings as well as peer-run programs and centers.
The video, Beyond the Shadow of Stigma, is available online at:
/resources/webcast/beyond-the-shadows-of-stigma
NOTE: The Leader's Guide set includes a copy of the workbook.
Citation: Gagne, C., Bowers, A., Bloch, P., Furlong-Norman, K., McNamara, S., & Russinova, Z. (2019). Combating prejudice and discrimination through Photovoice empowerment (Second Edition). Boston, MA: Boston University Center for Psychiatric Rehabilitation.
Product Details
Leader's Guide
PDF file: 108 pages
Published: 2019
ISBN: 978-1-878512-73-4
Workbook
PDF file: 44 pages
Published: 2019
ISBN: 978-1-878512-72-7
Table of Contents
Introduction
Sample Class/Group Outline
Class 1: Overview of the Photovoice Class
Class 2: Nature of Stigma: Ignorance, Prejudice, and Discrimination
Class 3: Stages and Process of Photovoice
Class 4: Power of Language and Stereotypes
Class 5: Development of Photovoice Narratives
Class 6: Coping with Ignorance, Prejudice, and Discrimination
Class 7: Identifying Strengths and Resources
Class 8: Planning Photovoice Exhibits
Class 9: Integrating Strengths and Vulnerabilities
Class 10: Celebrating Our Photovoice Work and Process
Appendices
Reviews
Currently, there are no published reviews for this book. If you would like to write an endorsement, please send it to: cprbooks@bu.edu