Group Process Guidelines for Leading Groups and Classes
LeRoy Spaniol, Sue McNamara, Cheryl Gagne, and Rick Forbess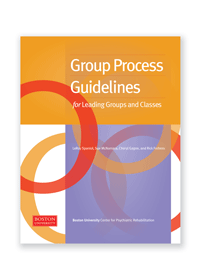 Curriculum / Workbook (PDF)
Group Process Guidelines for Leading Groups and Classes
LeRoy Spaniol, Sue McNamara, Cheryl Gagne, and Rick Forbess
Audience
Recommended for educators, students, practitioners, supervisors, trainers, and consumers—anyone interested in understanding and serving the needs of persons with psychiatric disabilities. Valuable resource for staff development and for classroom use in courses in rehabilitation counseling, psychology, psychiatry, psychiatric nursing, and social work.
Additional Materials for Purchase
Description
While some leaders are skilled in teaching or in group process, many group leaders lack sufficient training and experience in facilitating groups and classes effectively. Many group leaders are new to the process of leading groups; and many group leaders were never formally trained in the skills of conducting a group, but rather they learned how to run a group on-the-job by observing a co-worker or a supervisor. This book provides some guidelines for teachers and leaders of groups that are knowledge-based or skills-based, but they are not designed for facilitating a support or therapy group.
Regardless of the type of group being led, all groups require the leaders to perform skills before the group in preparation for the group or class, during the group while conducting the group or teaching the class, and after the group for following-up the group or class activities. This book is organized into sections that outline these preparation, delivery, and follow-up skills.  Information is included that explains this series of group process skills as well as some examples and exercises to practice the skills. Throughout the book you will be asked to think of a group or class that you currently lead or are planning to lead in the future. Be specific about identifying a particular group or class that will be the focus for your practice exercises throughout this workbook. At the end of each chapter is a checklist that may be used by individual group leaders as a self-assessment tool to assess their own group process skills, and it may be used by supervisors as an evaluation tool.
Citation: Spaniol, L., McNamara, S., Gagne, C., & Forbess, R. (2009). Group process guidelines for leading groups and classes. Boston, MA: Boston University Center for Psychiatric Rehabilitation.
Product Details
PDF file: 90 pages
Published: 2009
ISBN: 978-1-878512-43-7
Table of Contents
Chapter 1: Planning for the Group Activity
Chapter 2: Conducting the Group Activity
Chapter 3: Encouraging Participation
Chapter 4: Promoting Peer Leadership
Chapter 5: Following Up the Group Activity
Reviews
Currently, there are no published reviews for this product. If you would like to write an endorsement, please send it to: cprbooks@bu.edu