Psychiatric Rehabilitation Training Technology: Direct Skills Teaching
Mikal Cohen, Karen Danley, and Patricia Nemec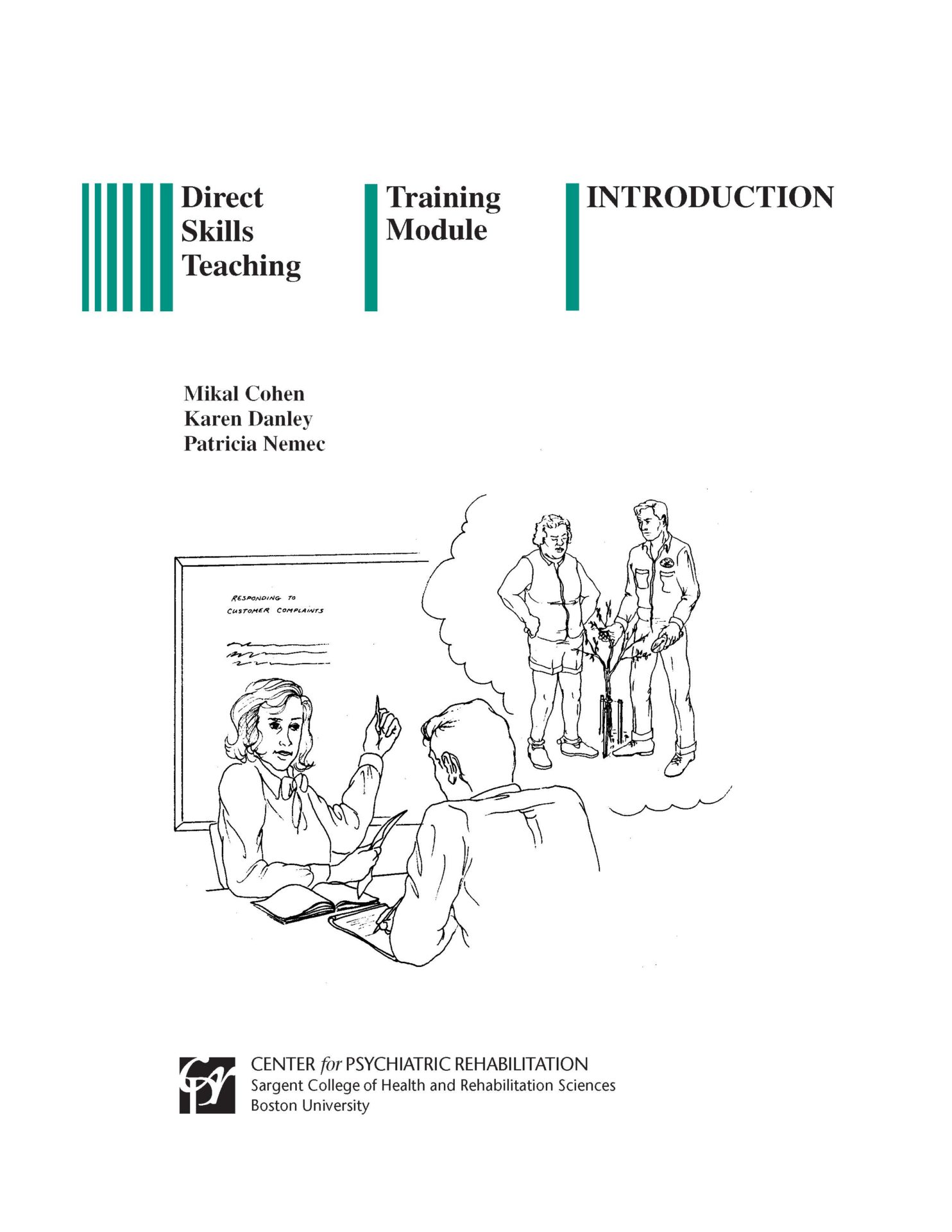 Curriculum / Workbook (PDF)
Psychiatric Rehabilitation Training Technology: Direct Skills Teaching
Mikal Cohen, Karen Danley, and Patricia Nemec
Audience
Recommended for use by instructors and trainers as part of an academic course, staff training, workshop, or seminar in the skills of the psychiatric rehabilitation process.
Additional Materials for Purchase
Description
Direct skills teaching is different from behavior modification, conditioning, or training that shapes behavior without a person's full control. Direct skills teaching involves individuals in comprehensive instructional activities, enabling them to perform skills when they choose to do so. This technology teaches practitioners how to help consumers acquire and use the skills needed to be successful and satisfied in residential, educational, vocational, and social environments. Practitioners learn how to outline skill content, plan the lesson, program skill use, and encourage the individuals' participation throughout the teaching process.
Training Package Contents
Training Orientation Guide (PDF file)
Training Modules (6 PDF files)
Reference Handbooks (6 PDF files)
PowerPoint® Slides (PDF file)
Audio Demonstrations (in MP3 files, 3 examples approximately 10 minutes)
Video Demonstration (YouTube link, 3 excerpts approximately 1.25 hours)
If you are interested in Consultation/In-Service Training about how to best use these training materials in your program or agency, please contact: Marianne Farkas, Director of Training, mfarkas@bu.edu
Citation: Cohen, M., Danley, K., & Nemec, P. (1985, 2007). Psychiatric rehabilitation training technology: Direct skills teaching. Boston, MA: Boston University Center for Psychiatric Rehabilitation.
Product Details
Published: Edited and revised format 2007
ISBN: 978-1-878512-33-8
Table of Contents
Introduction
Outlining Skill Content
Planning the Lesson
Coaching
Programming Skill Use
Conclusion
Reviews
Currently, there are no published reviews for this book. If you would like to write an endorsement, please send it to: cprbooks@bu.edu