The Role of the Family in Psychiatric Rehabilitation: A Workbook
LeRoy Spaniol, Anthony M. Zipple, Diane T. Marsh, and Laurene Y. Finley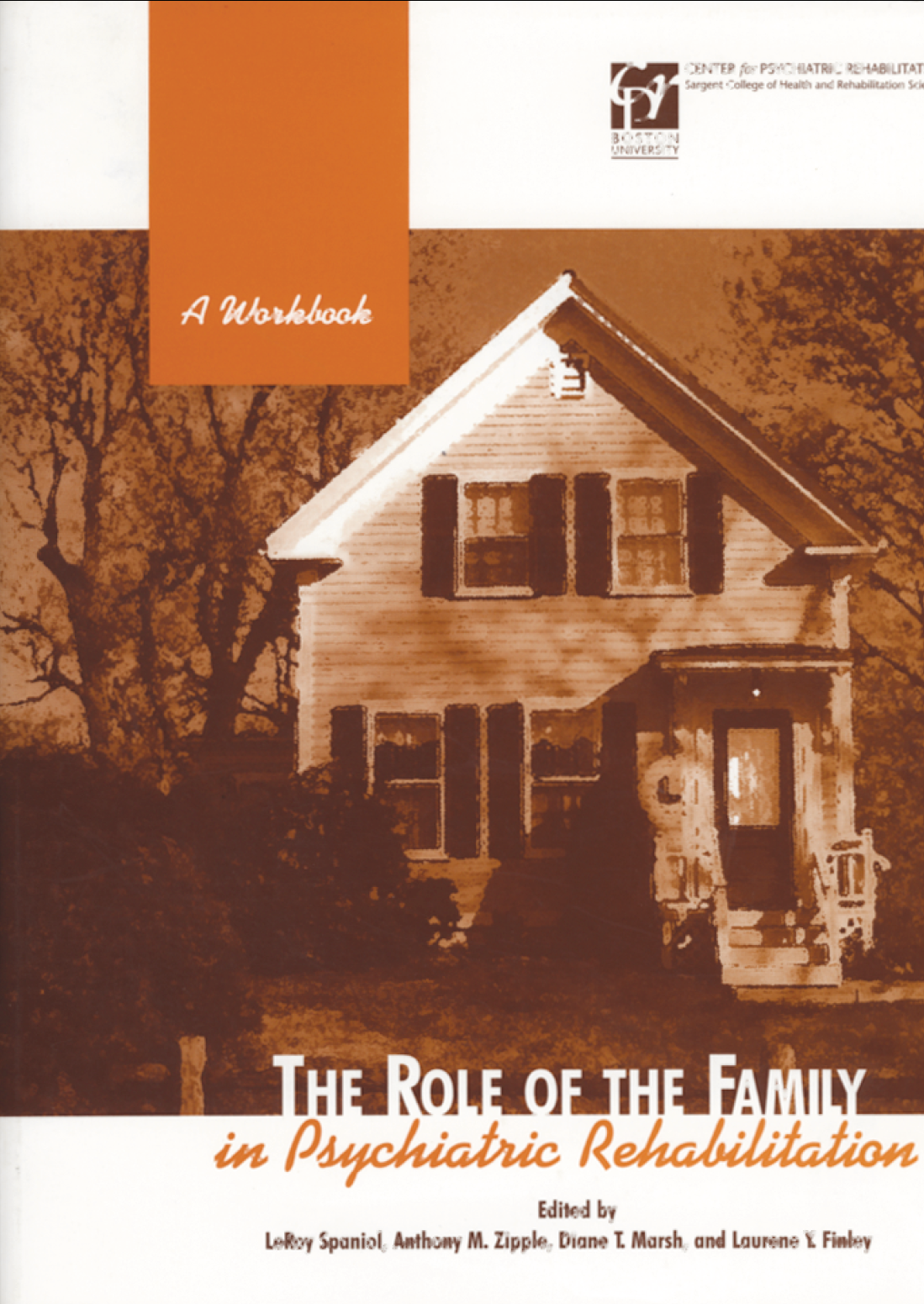 Curriculum / Workbook (PDF)
The Role of the Family in Psychiatric Rehabilitation: A Workbook
LeRoy Spaniol, Anthony M. Zipple, Diane T. Marsh, and Laurene Y. Finley
Audience
Recommended for educators, students, practitioners, supervisors, trainers, and consumers—anyone interested in understanding and serving the needs of persons with psychiatric disabilities. Valuable resource for staff development and for classroom use in courses in rehabilitation counseling, psychology, psychiatry, psychiatric nursing, and social work.
Description
This workbook offers practical strategies for helping families of individuals with psychiatric disability to better understand their roles in the recovery and rehabilitation process. The Role of the Family in Psychiatric Rehabilitation: A Workbook describes the experience of having a family member with a psychiatric disability, and the multiple and changing roles that family members can play in the psychiatric rehabilitation process.
The authors discuss:
The family members experience of loss and their process of recovery.
How to meet the many needs of young family members.
Practical coping strategies for family members.
How to help family members manage stress.
How to deal with confidentiality issues.
The cultural context of coping with a family member with a psychiatric disability.
Strategies for collaborative relationships between family members and mental health and rehabilitation professionals.
Citation: Spaniol, L., Zipple, Marsh, D., & Finley, L. (2000). The role of family in psychiatric rehabilitation. Boston, MA: Boston University Center for Psychiatric Rehabilitation.
Product Details
PDF file: 218 pages
Published: 2000
ISBN: 978-1-878512-25-3
Table of Contents
Introduction
Chapter 1: The Family Experience of Psychiatric Disability
Chapter 2: Changing Family Roles
Chapter 3: The Recovery Process of Family Members
Chapter 4: Family Needs
Chapter 5: Meeting the Needs of Young Family Members
Chapter 6: Practical Coping Strategies for Families
Chapter 7: Helping Families to Manage Personal Stress and Burn-out
Chapter 8: Confidentiality and the Family
Chapter 9: The Cultural Context: Families Coping with Psychiatric Disability
Chapter 10: Family-Professional Collaboration
References
Reviews
"…I received a copy of the workbook, The Role of the Family in Psychiatric Rehabilitation…How exciting!…I think the course is great…This course appears that it may have an enduring impact on mental health professionals and the way they might interact with families…
Marcia Garatt, NAMI
…The Literature Committee of the National Alliance for the Mentally Ill has reviewed the book, The Role of the Family in Psychiatric Rehabilitation: A Workbook, and is recommending the book to the more than 200,000 NAMI members…
Betsy Samuelson Greer, NAMI Literature Committee