Self-Directed Psychiatric Rehabilitation Activities
Sue McNamara, Debbie Nicolellis, and Rick Forbess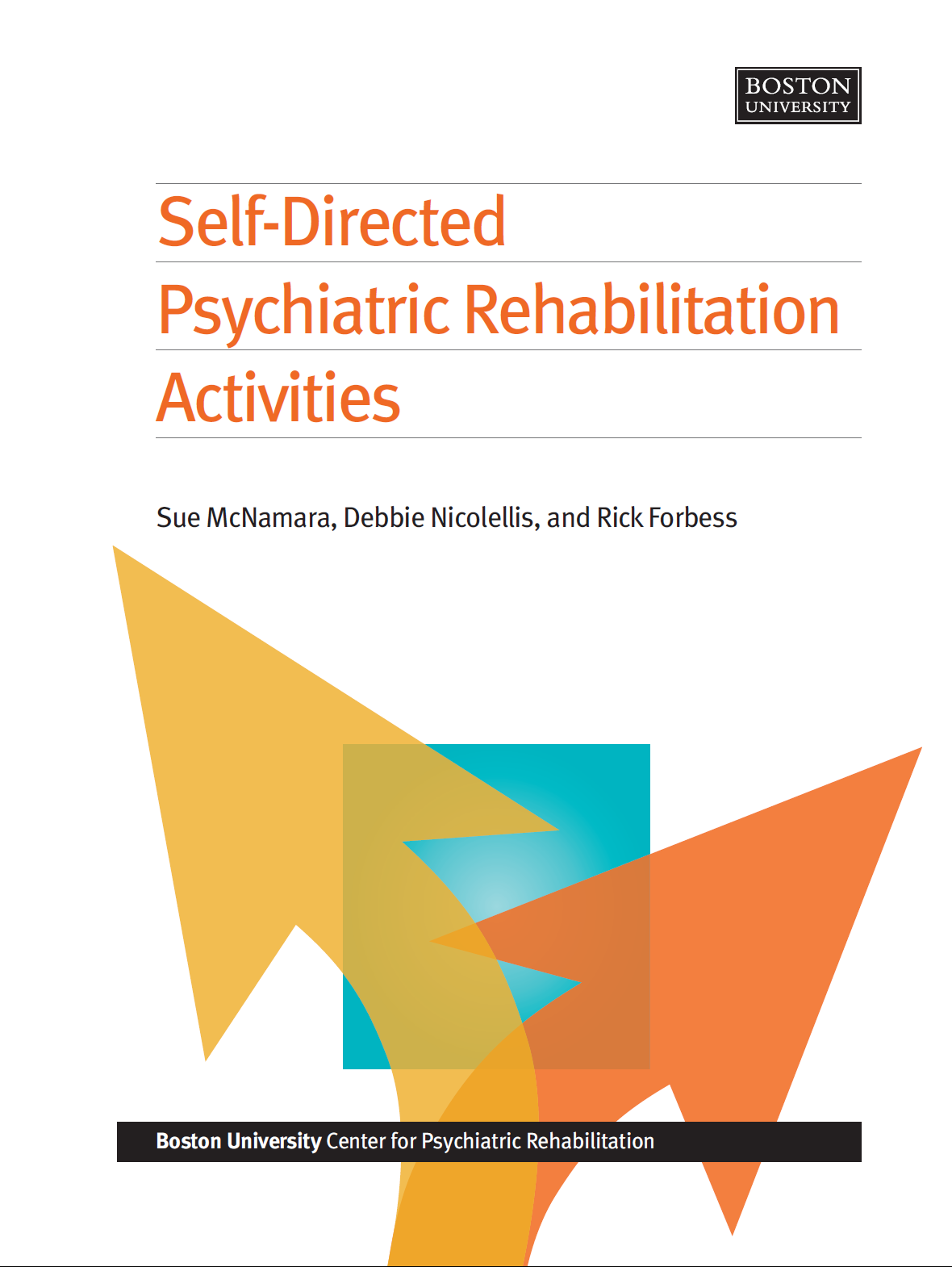 Curriculum / Workbook (PDF)
Self-Directed Psychiatric Rehabilitation Activities
Sue McNamara, Debbie Nicolellis, and Rick Forbess
Audience
These activities are useful for those who want to work independently or with support to discover where they want to live, learn, work, or socialize. A valuable resource for individuals, peers, mental health and rehabilitation service providers, family members, and others, who will find the Self-Directed Psychiatric Rehabilitation Activities to be user-friendly and helpful in making important life decisions.
Description
Based on the values and principles of psychiatric rehabilitation, the Self-Directed Psychiatric Rehabilitation Activities is a product designed to walk a person through the process of considering, choosing, getting, and keeping a preferred living, learning, working, or social role. The individual is the driver in this process, while others sit in the passenger seat helping to navigate the route, if some assistance is wanted and needed.
The outlines and worksheets are written for personal use. The process in this manual is designed to assist a person to explore and develop readiness for rehabilitation; to choose a valued role in residential, educational, vocational, and social settings; and to review and develop skills and supports in order to be satisfied and successful in a chosen role. Individuals may want to use these Self-Directed Activities independently or with a small group of peers.
The activities are organized with:
An overview of each activity
An outline of the steps for completing the activity worksheets
Examples from one person's experience with the entire process
Blank worksheets to help guide individuals through the process
This format of an Overview–Outline–Example–Worksheets is designed to help people walk through the parts of the process one step at a time. The activities are written in PDF files, which allows the flexibility of printing out the sections as individuals go along in the process as well as the ability to print out extra worksheets as needed.
Citation: McNamara, S., Nicolellis, D., & Forbess, R. (2011). Self-directed psychiatric rehabilitation activities. Boston, MA: Boston University Center for Psychiatric Rehabilitation.
Product Details
PDF file: 224 pages
Published: 2011
ISBN: 978-1-878512-49-9
Table of Contents
Introduction
Exploring My Readiness for Rehabilitation
Developing My Confidence and Readiness
Choosing a Valued Role
Assessing My Skills
Reviewing My Supports
Developing My Skills
Developing My Supports
Conclusion
Reviews
Currently, there are no published reviews for this book. If you would like to write an endorsement, please send it to: cprbooks@bu.edu