Enhancing Workplace Inclusion for Employees with Psychiatric Disabilities
Rick Forbess, Marianne Farkas, Zlatka Russinova, and Philippe Bloch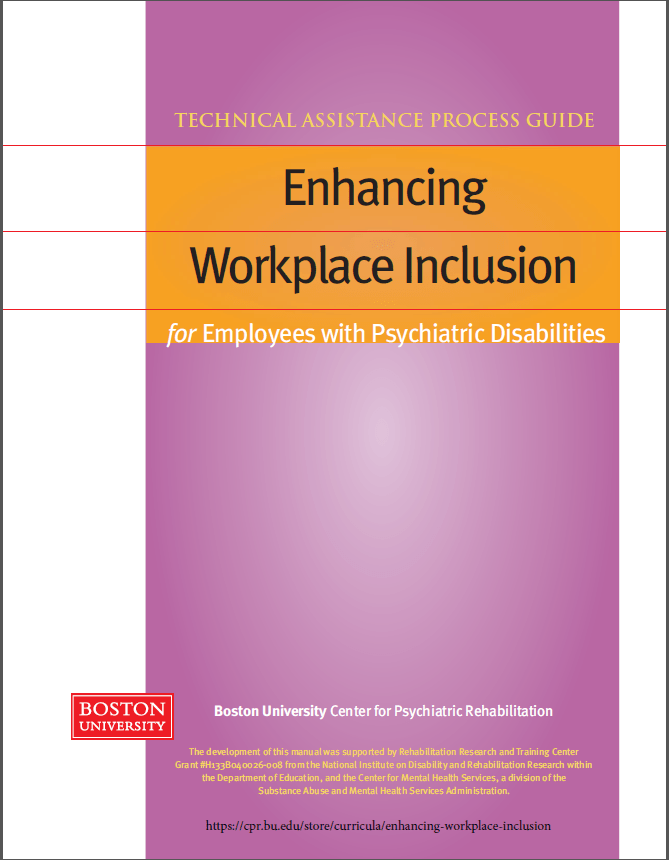 Curriculum / Workbook (PDF)
Enhancing Workplace Inclusion for Employees with Psychiatric Disabilities
Rick Forbess, Marianne Farkas, Zlatka Russinova, and Philippe Bloch
Audience
Recommended for educators, students, practitioners, supervisors, trainers, and consumers—anyone interested in understanding and serving the needs of persons with psychiatric disabilities. Valuable resource for staff development and for classroom use in courses in rehabilitation counseling, psychology, psychiatry, psychiatric nursing, and social work.
Description
The key components of the Enhancing Workplace Inclusion for Employees with Psychiatric Disabilities guide include: a description of six guiding principles for the provision of technical assistance; a narrative overview of the seven major steps of the technical assistance process; and discrete sections for each step including the intended outcomes for the step, guidelines for conducting the step; and a case study example of the step. The benefit of using the guide is increased understanding about how to effectively involve employers in the development, implementation, and improvement of strategies designed to eliminate prejudicial and discriminatory behaviors toward people with psychiatric disabilities in the workplace.
Citation: Forbess, R., Farkas, M., Russinova, Z., & Bloch, P. (2010). Enhancing workplace inclusion for employees with psychiatric disabilities. Boston, MA: Boston University Center for Psychiatric Rehabilitation.
Product Details
PDF file: 32 pages
Published: 2010
ISBN: 978-1-878512-47-5
Table of Contents
Introduction
Orientation to the Technical Assistance Process Guide
Overview of Technical Assistance Principles and Process
Step 1: Engaging the Employer
Step 2: Targeting Discriminatory Behaviors
Step 3: Developing Policies
Step 4: Establishing Benchmarks
Step 5: Designing Benchmark Evaluation
Step 6: Educating Employees
Step 7: Addressing Problems
Appendix: Sample Survey Questions
References
Reviews
Currently, there are no published reviews for this book. If you would like to write an endorsement, please send it to: cprbooks@bu.edu