Compendium of Activities for Assessing & Developing Readiness for Rehabilitation Services
Mikal Cohen and Dean Mynks, in consultation with John Sheets and David Bucciferro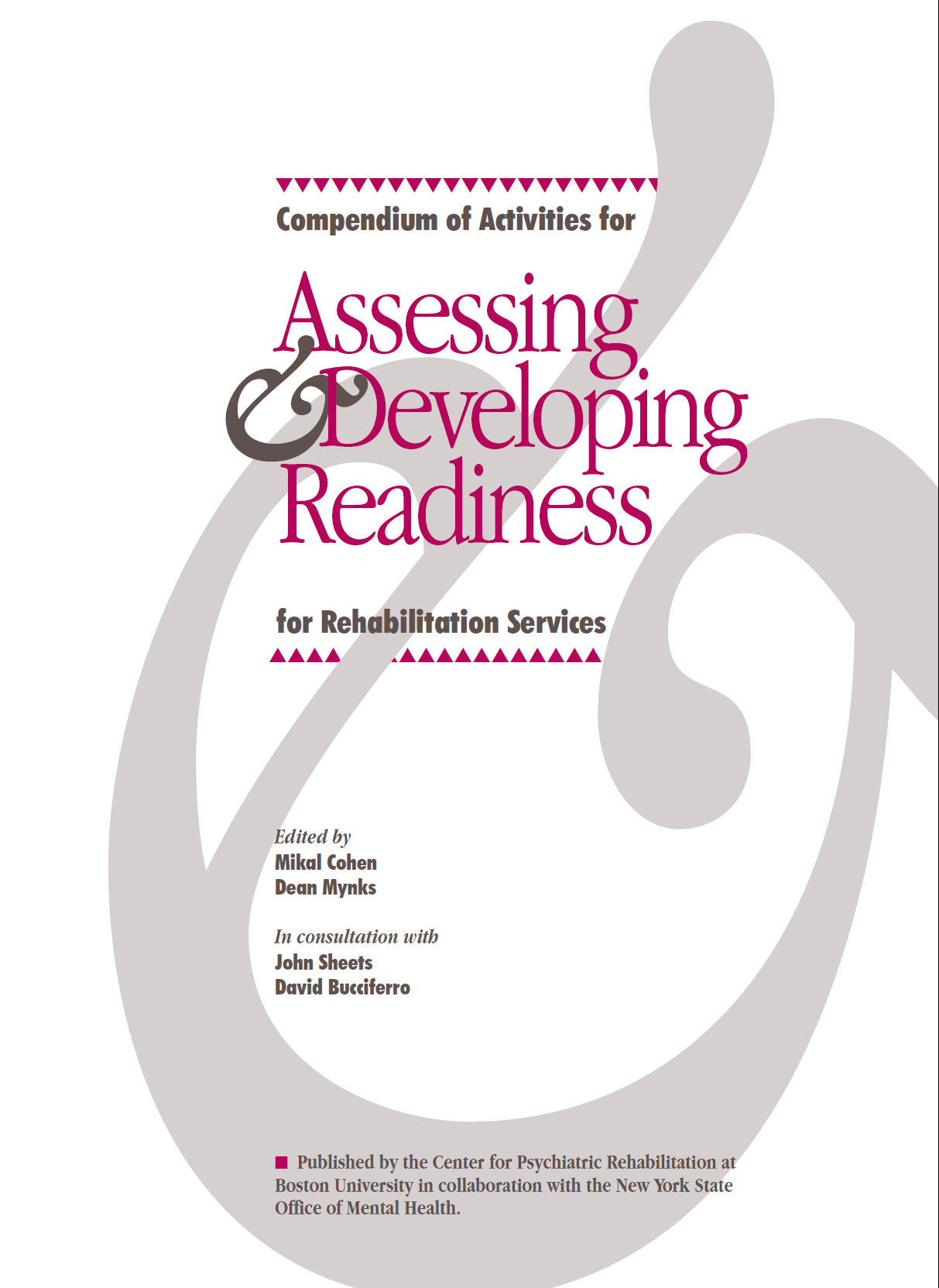 Curriculum / Workbook (PDF)
Compendium of Activities for Assessing & Developing Readiness for Rehabilitation Services
Mikal Cohen and Dean Mynks, in consultation with John Sheets and David Bucciferro
Audience
Recommended for use by practitioners and peer leaders facilitating the process Assessing & Developing Readiness for individuals and groups.
Description
This compendium is a collection of activities for assessing and developing a person's desire to participate in rehabilitation services. It was designed for use with persons with long-term psychiatric disabilities in psychiatric centers or outpatient settings (e.g., continuing day treatment and intensive psychiatric rehabilitation treatment programs). It was developed from activities designed by the psychiatric rehabilitation teams in the New York State psychiatric centers following a five-year transformation process undertaken by the New York State Office of Mental Health to infuse their mental health system with the philosophy and technology of psychiatric rehabilitation. Each activity is outlined in a step-by-step fashion.
Citation: Cohen, M., & Mynks, D. (Eds). (1993). Compendium of activities for assessing and developing readiness for rehabilitation services. Boston, MA: Boston University, Center for Psychiatric Rehabilitation.
Product Details
PDF file: 104 pages
Published: 1993
ISBN: 978-1-878512-26-0
Table of Contents
Overview of Assessing and Developing Readiness
Section 1: Activities for Orienting a Person to Psychiatric Rehabilitation Services
Section 2: Activities for Assessing Readiness for Rehabilitation Services
Section 3: Activities for Developing Self-Awareness
Section 4: Activities for Developing Awareness of Alternative Environments
Section 5: Activities for Mobilizing Support for Participation in Rehabilitation Services
Section 6: Activities for Personalizing Accomplishments
Appendix
References
Reviews
Currently, there are no published reviews for this book. If you would like to write an endorsement, please send it to: cprbooks@bu.edu