Toward a Vision of Recovery
William A. Anthony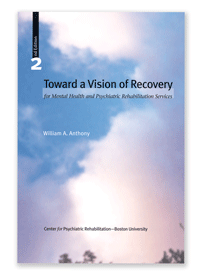 Book (PDF)
Toward a Vision of Recovery
William A. Anthony
Audience
Valuable tool for stimulating group discussions for mental health service providers, students, researchers, administrators, families, consumers/survivors, and board members. An insightful and critical resource for educating community service providers–including emergency, educational, medical, and legal personnel.
Description
This revised and expanded second edition of Toward a Vision of Recovery traces Dr. William Anthony's thoughts on recovery, beginning with a declaration in 1992 that recovery should be the guiding vision of the entire mental health field.
He follows with a discussion of the standards for developing recovery-oriented service systems, the need to incorporate helping processes that are fundamental to people's recovery into evidence-based mental health practice, and the need to transform research in the field by exploring the barriers and the facilitators to recovery–or simply, researching what makes people well. Anthony and co-authors, Cheryl Gagne and William White, conclude with an analysis of recovery as the common vision of the fields of mental health and addictions.
An extensive list of resources and publications related to recovery from mental illnesses is included at the end of the book.
Citation: Anthony, W. (2007). Toward a vision of recovery. Boston, MA: Boston University, Center for Psychiatric Rehabilitation.
Product Details
PDF file: 60 pages
Published: 2007
ISBN: 978-1-878512-21-5
Table of Contents
Preface
A Revolution in Vision
The Decade of Recovery
Recovery from Mental Illness: The Guiding Vision of the Mental Health System in the 1990s
A Recovery-Oriented Service System: Setting Some System Level Standards
Expanding the Evidence Base in an Era of Recovery
The Recovery Effect
Recovery: A Common Vision for the Fields of Mental Health and Addictions
Resources on Recovery
Reviews
…Bill Anthony dared to champion recovery for people with psychiatric disabilities when most professionals flatly did not believe him. He has been writing and speaking about recovery for almost 20 years, and this material demonstrates the evolution of his ideas on recovery during that period.
Martha Long, Director, The Village Integrated Service Agency, Long Beach, CA
…In an age when recovery is being co-opted and becoming just another word for treatment as usual, Bill Anthony's voice is clear and strong. He uses very skillful means to convey the full meaning of recovery, especially to those who have not experienced it.
Edward L. Knight, Vice President of Recovery, ValueOptions, Colorado Springs, CO
…Pulls the reader/listener passionately into the very real vision of recovery-for-all…can be used easily by individuals and groups to promote a message of hope…identifies ways people and systems can apply the notion that recovery is possible.
Kathy Muscari, Director, CONTAC (self-help national technical assistance center)
…Bill Anthony's presentations always make me think. This DVD is a great first training to help staff and persons served, better understand the concept of recovery. I use it all the time for family education as well.
Jeannette Depoy, Community Friendship, Inc., Atlanta, GA
…Delivers essential knowledge…for every practitioner in the field, while giving hope to those who have been diagnosed with serious mental illness and their families.
Ron Christensen, Assistant Director, Community Life Program, Story County, IA
…Makes the most important contribution in the area of rehabilitation for people with mental illness that I have seen in years. It constitutes a statement that there is "hope" and that people with mental illness can achieve in our community if we just expect that they can do so.
Elmer C. Bartels, former Commissioner, Massachusetts Rehabilitation Commission
…How inspiring… the whole Archway community is viewing it in small groups and discussing the possibilities it opens for the field. Great job!
Lou Van Hollen, Archway Station, Inc., Cumberland, MD