The Recovery Workbook: Practical Coping and Empowerment Strategies for People with Psychiatric Disabilities
LeRoy Spaniol, Martin Koehler, and Dori Hutchinson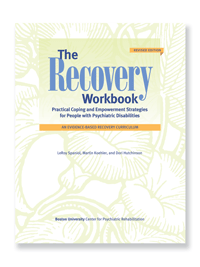 Curriculum / Workbook (PDF)
The Recovery Workbook: Practical Coping and Empowerment Strategies for People with Psychiatric Disabilities
LeRoy Spaniol, Martin Koehler, and Dori Hutchinson
Audience
Recommended for use by consumer and/or professional leaders as part of a training workshop, course, or seminar in the recovery process. It also can be used by self-help groups and individuals for self-study of recovery.
Additional Materials for Purchase
Description
A resource for professionals, family members, and consumers/survivors to help people who experience psychiatric disability begin the process of recovery. Psychiatric illness—and the stigma that surrounds it—can be devastating. People are left feeling profoundly disconnected from themselves, from others, from their environments, and from meaning or purpose in life. Recovery is an empowerment process that can help rebuild these important personal, social, environmental, and spiritual connections; and help confront the devastating effects of stigma.
Purpose: To teach awareness and understanding of the recovery process. To teach coping and empowerment strategies for recovery. To provide the information and skills needed to strengthen the recovery process, to cope more creatively, and to live life more fully.
Citation: Spaniol, L., Koehler, M., & Hutchinson, D. (1994, 2009). The recovery workbook: Practical coping and empowerment strategies for people with psychiatric disability, Revised edition. Boston, MA: Boston University, Center for Psychiatric Rehabilitation.
Product Details
Workbook:
PDF file: 120 pages
Published: 2009
ISBN: 978-1-878512-40-6
Leader's Guide:
PDF file: 36 pages
Published: 2000
ISBN: 978-1-878512-20-8
Table of Contents
Chapter 1: Introduction
Chapter 2: Recovery
Chapter 3: Increasing Knowledge and Control
Chapter 4: Managing Life's Stresses
Chapter 5: Enhancing Personal Meaning
Chapter 6: Building Personal Support
Chapter 7: Setting Personal Goals
Reviews
…The Recovery Workbook has been the cornerstone of all peer support meetings that I do. I have seen people with tears in their eyes thanking me for bringing and sharing the Recovery Workbook into their lives. Several thousand people in Massachusetts with the Peer Educators Project have used this workbook. Even more people with the Vet To Vet peer education across the entire United States in the VA health care system. The Recovery Workbook has been the most demanded and used materials that I have used in almost twenty years of peer support. I have started with the Recovery Workbook in the pilot phase and never lost faith in this book's potential to transform lives. Carry it under one arm, set up a group, teach the materials, and watch wonders happen. If you are looking for something, try the original Recovery Workbook. Used, tested, and constantly in use for over a decade. Moe Armstrong, MBA, MA, Founder Vet To Vet and Peer Educators Project
…The Literature Committee of the National Alliance for the Mentally Ill has reviewed your book, The Recovery Workbook: Practical Coping and Empowerment Strategies for People with Psychiatric Disability,… and is recommending the book to the more than 200,000 NAMI members… Betsy Samuelson Greer, NAMI Literature Committee
Wedenoja, M. (2000). The recovery workbook: Practical coping and empowerment strategies for people with psychiatric disability. NAMI Advocate, December-January, 31-32.
Articles about the Recovery Workbook
…A quote from the abstract of the following article states: "…Conclusions: The study, which is one of the first randomized controlled trials of a recovery-based group intervention for persons with serious mental illness, showed that the Recovery Workbook group program was effective in increasing individuals' perceived sense of hope, empowerment, and recovery. In an era when recovery is the primary goal around which reformed mental health service delivery is organized, researchers should continue to study recovery-based interventions, such as the Recovery Workbook to determine their potential as evidence- based treatment options." Barbic, S., Krupa, T., & Armstrong, I. (2009). A randomized controlled trial of the effectiveness of a modified recovery workbook program: Preliminary findings. Psychiatric Services, 60(4), 491-497. Click here for the article
…Although the article cited below describes Vet-to-Vet in which Moe Armstrong used a "pocket sized" Recovery Workbook, the workbook itself is not specifically referenced. Resnick, S. G., Armstrong, M., Sperrazza, M., Harkness, L., & Rosenheck, R. A. (2004). A model of consumer-provider partnership: Vet-to-vet. (2004). Psychiatric Rehabilitation Journal, 28(2), 185-187. Click here for a PDF copy of the article
…This article describes "recovery oriented publications." Resnick, S. G. & Rosenheck, R. A. (2008). Integrating peer-provided services: A quasi-experimental study of recovery orientation, confidence, and empowerment. Psychiatric Services, 59(11), 1307.