Recuperando la Esperanza-Libro Práctico (Spanish Edition of the Recovery Workbook)
LeRoy Spaniol, Martin Koehler, Dori Hutchinson, and Maria Restrepo-Toro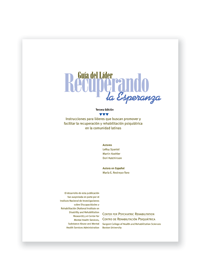 Curriculum / Workbook (PDF)
Recuperando la Esperanza-Libro Práctico (Spanish Edition of the Recovery Workbook)
LeRoy Spaniol, Martin Koehler, Dori Hutchinson, and Maria Restrepo-Toro
Audience
Recommended for use by consumer and/or professional leaders as part of a training workshop, course, or seminar in the recovery process. It also can be used by self-help groups and individuals for self-study of recovery.
Additional Materials for Purchase
Description
This Spanish edition of the Recovery Workbook is a resource for professionals, consumer/survivors, and family members to help people with psychiatric disabilities to begin the process of recovery. It may be used with groups or for self-study.
Psychiatric illness—and the stigma that surrounds it—can be devastating. People are left feeling profoundly disconnected from themselves, from others, from their environments, and from meaning or purpose in life. Recovery is an empowerment process that can help rebuild these important personal, social, environmental, and spiritual connections; and help confront the devastating effects of stigma.
Citation: Spaniol, L., Koehler, M., Hutchinson, D., & Restrepo-Toro, M. (1999). Recuperando la esperanza—Libro práctico. Boston, MA: Boston University, Center for Psychiatric Rehabilitation.
Product Details
Workbook:
PDF file: 127 pages
Published: 1994
ISBN: 978-1-878512-27-7
Guía del Líder:
PDF file: 42 pages
Published: 2005
ISBN: 978-1-878512-20-8
Table of Contents
Capítulo 1: Introducción
Capítulo 2: La Recuperación
Capítulo 3: Incrementando Nuestro Conocimiento y Control
Capítulo 4: Manejando el Estrés de la Vida Diaria
Capítulo 5: Renovando Nuestro Sentido de Identidad
Capítulo 6: Creando Vínculos de Apoyo Personal
Capítulo 7: Estableciendo Metas Personales
Reviews
Currently, there are no published reviews for this product. If you would like to write an endorsement, please send it to: cprbooks@bu.edu