Readings in Psychiatric Rehabilitation & Recovery
William A. Anthony and Kathleen Furlong-Norman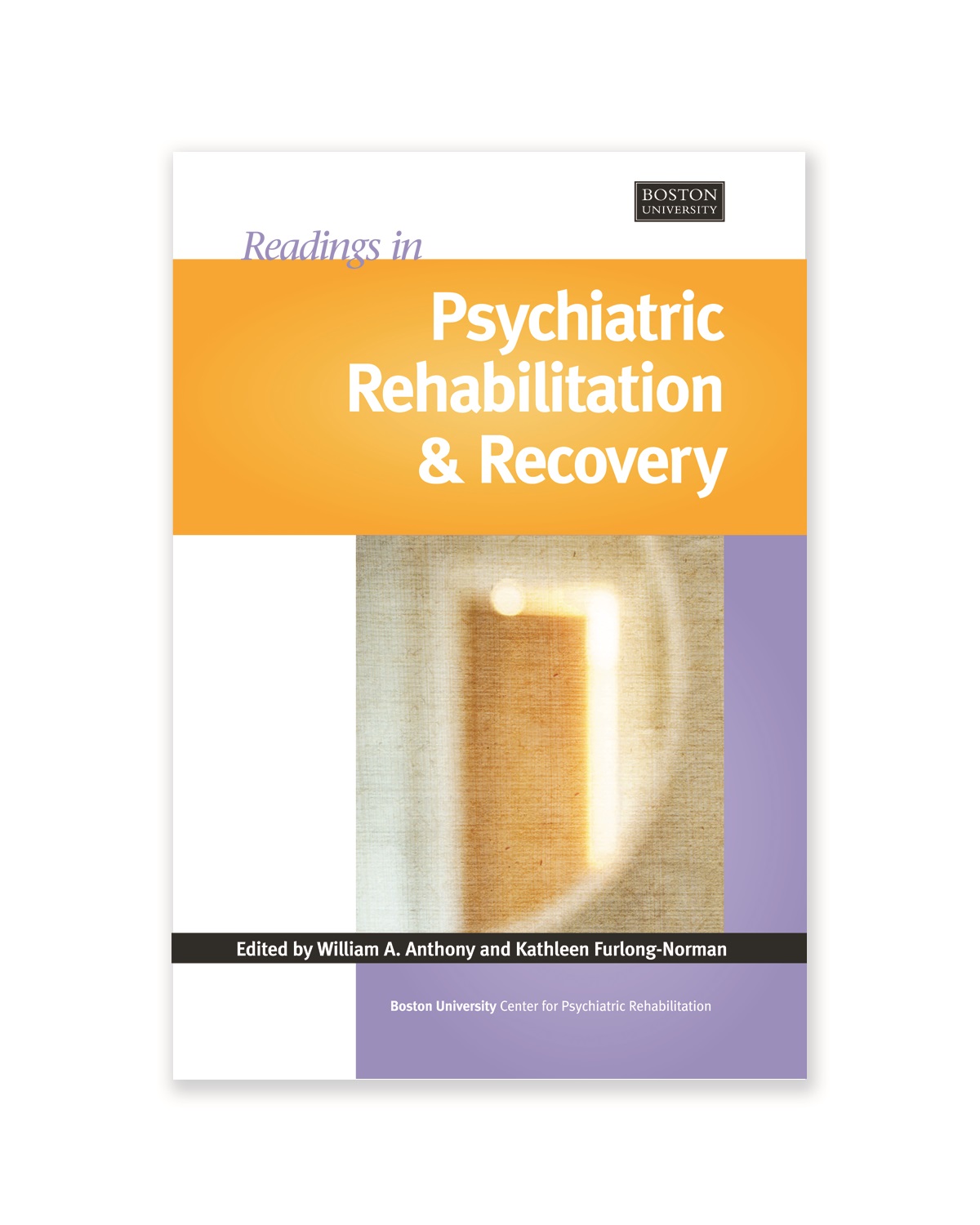 Book (PDF)
Readings in Psychiatric Rehabilitation & Recovery
William A. Anthony and Kathleen Furlong-Norman
Audience
Recommended for educators, researchers, and advocates—anyone interested in understanding and serving the needs of persons with psychiatric disabilities. Valuable resource for staff development and for classroom use in courses in rehabilitation counseling, psychology, psychiatry, psychiatric nursing, and social work.
Description
Readings in Psychiatric Rehabilitation and Recovery is an updated version of the original Readings in Psychiatric Rehabilitation book. It was conceived and organized as a supplemental book of readings to further explore the concepts, philosophy, and practices presented by textbooks in psychiatric rehabilitation, including the book, Psychiatric Rehabilitation by Anthony, Cohen, Farkas, and Gagne. It is an excellent resource for students of psychiatric rehabilitation, professionals, consumers, and advocates—or for anyone interested in understanding the needs of persons with psychiatric disabilities. It can be used as an academic textbook as an introduction to the field of psychiatric rehabilitation.
Citation: Anthony, W. A., & Furlong-Norman, K. (Eds). (2011). Readings in psychiatric rehabilitation and recovery. Boston, MA: Boston University Center for Psychiatric Rehabilitation.
Product Details
PDF file: 680 pages
Published: 2011
ISBN: 978-1-878512-48-2
Table of Contents
Chapter 1: Describing the Field of Psychiatric Rehabilitation and the Vision of Recovery
Chapter 2: Introduction to Psychiatric Rehabilitation Practice and Research
Chapter 3: Psychiatric Rehabilitation Personnel
Chapter 4: Psychiatric Rehabilitation Programs and Vocational Outcomes
Chapter 5: Psychiatric Rehabilitation Programs and Residential Outcomes
Chapter 6: Psychiatric Rehabilitation Programs and Educational Outcomes
Chapter 7: Psychiatric Rehabilitation Programs and Social Outcomes
Chapter 8: Psychiatric Rehabilitation Within a Recovery-Oriented System
Chapter 9: Future Issues in Psychiatric Rehabilitation and Recovery
Reviews
Currently, there are no published reviews for this book. If you would like to write an endorsement, please send it to: cprbooks@bu.edu