Introduction to Rehabilitation Readiness
Marianne Farkas, Anne Sullivan Soydan, and Cheryl Gagne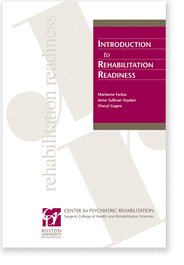 Book (PDF)
Introduction to Rehabilitation Readiness
Marianne Farkas, Anne Sullivan Soydan, and Cheryl Gagne
Audience
Recommended for practitioners, educators, trainers, program administrators, and program directors. Valuable resource for training new staff or for retraining existing staff; for training students in courses in rehabilitation counseling, psychology, psychiatry, psychiatric nursing, and social work; and for workshop presentations and seminars for helping professionals.
Additional Materials for Purchase
Description
Rehabilitation readiness helps people with serious psychiatric disabilities to actively assess their own willingness to engage in rehabilitation. Introduction to Rehabilitation Readiness begins with a brief overview of psychiatric rehabilitation. The research background and context for the concepts involved in both assessing and developing psychiatric rehabilitation readiness are discussed. Further, if they wish, it helps people to get involved in activities that assist them in increasing their readiness.
Introduction to Rehabilitation Readiness can be used as a stand-alone text for classroom use or self-study. It also can be used as an introduction to the Rehabilitation Readiness Training Technology.
Citation: Farkas, M., Sullivan Soydan, A., & Gagne, C. (2000). Introduction to rehabilitation readiness. Boston, MA: Boston University, Center for Psychiatric Rehabilitation.
Product Details
PDF file: 80 pages
Published: 2000
ISBN: 978-1-878512-10-9
Table of Contents
Chapter 1: The Context for Rehabilitation Readiness
Chapter 2: Description of Rehabilitation Readiness
Chapter 3: Assessing Readiness for Rehabilitation
Chapter 4: Developing Readiness for Rehabilitation
Chapter 5: Conclusion
Reviews
Currently, there are no published reviews for this book. If you would like to write an endorsement, please send it to: cprbooks@bu.edu