Career Planning Curriculum for People with Psychiatric Disabilities
Karen Danley, Dori Hutchinson, and Marie Restrepo-Toro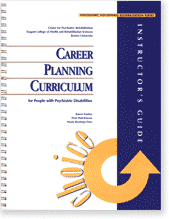 Curriculum / Workbook (PDF)
Career Planning Curriculum for People with Psychiatric Disabilities
Karen Danley, Dori Hutchinson, and Marie Restrepo-Toro
Audience
Recommended for use by instructors and consumers, and/or professional leaders as part of an academic course, training workshop, seminar, or group within a mental health program. It also can be used by self-help groups and individuals for self-study.
Additional Materials for Purchase
Description
The Career Planning Curriculum: Instructor's Guide and Reference Handbook is designed to guide rehabilitation practitioners in helping people with psychiatric disabilities to specify and to plan for the attainment of vocational goals that reflect both reality and hope.
The content of the curriculum is derived from the choose-get-keep approach to psychiatric vocational rehabilitation developed at the Center for Psychiatric Rehabilitation at Boston University. This approach integrates effective practices of vocational rehabilitation with tested psychiatric rehabilitation principles to help people with psychiatric disabilities to develop the skills, supports, and experiences they need to gain satisfying and successful employment in an occupation of choice.
The curriculum is the culmination of years of experience and feedback from participants and practitioners at the Center's Career Education Program and Career Achievement Services, programs consisting of classroom instruction, and intensive peer and professional support that have served over 250 individuals with psychiatric disabilities during the last 12 years. Earlier versions of the curriculum also have been used in a range of clinical and educational settings.
Although the curriculum is detailed and comprehensive, skilled psychiatric rehabilitation practitioners are encouraged to tailor the curriculum to meet the unique needs of individuals they serve.
NOTE: The Instructor's Guide set includes an instructor's copy of the Reference Handbook PDF file.
Citation: Danley, K., Hutchinson, D., & Restrepo-Toro, M. (1998). Career planning curriculum. Boston, MA: Boston University Center for Psychiatric Rehabilitation.
Product Details
Instructor's Guide
PDF file: 140 pages
Published: 1998
ISBN: 978-1-878512-07-9
Reference Handbook
PDF file: 104 pages
Published: 1998
ISBN: 978-1-878512-08-6
Table of Contents
Preface and Introduction
Unit 1: Profiling Vocational Potential
Unit 2: Exploring Vocational Options
Unit 3: Career Achieve Planning
References and Appendix
Reviews
Click here to read a review from the Psychiatric Rehabilitation Journal.
Granger, B. (2001). Book review: Career planning curriculum for people with psychiatric disabilities: Instructor's guide and reference handbook. Psychiatric Rehabilitation Journal, 24(3), 305-306.