Anguished Voices: Siblings and Adult Children of Persons with Psychiatric Disabilities
Rex M. Dickens and Diane T. Marsh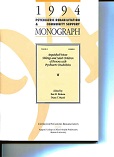 Book (PDF)
Anguished Voices: Siblings and Adult Children of Persons with Psychiatric Disabilities
Rex M. Dickens and Diane T. Marsh
Audience
Recommended for family members, consumers, practitioners, trainers, and administrators.
Description
Personal accounts of siblings and children of people with mental illness. The mental illness of a close relative is a catastrophic event for young family members that has repercussions through their lives. In the past, there has been little awareness of this impact among most professionals and parents, or even among siblings and children themselves. At present, adult siblings and children are gaining insight into their own experiences and sharing their wisdom with the larger community. This book is an outgrowth of that process.
Citation: Dickens, R. M., & Marsh, D. T. (Eds). (1994). Anguished voices: Siblings and adult children of persons with psychiatric disabilities. Boston, MA: Boston University, Center for Psychiatric Rehabilitation.
Product Details
PDF file: 83 pages
Published: 1994
Table of Contents
Introduction
Rex M. Dickens and Diane T. Marsh Coming to Terms: A Sister's Odyssey\
Lisa Ewald Albury Nannie: A Sister's Story
Annie V. Saylor: Emergence
Robert F. Penning: My Mother, My Family
Susan L.: Having Two Fathers
Karen Kinsella: My First Punching Bag
Dean Hogan: Playing with Kelley
Laura Donahue: A Family Album
Rex M. Dickens: Annotated Resources
Reviews
Currently, there are no published reviews for this book. If you would like to write an endorsement, please send it to Sue McNamara at: cprbooks@bu.edu