Eight Dimensions of Wellness
---
What is Wellness?
Wellness is being in good physical and mental health. Because mental health and physical health are linked, problems in one area can impact the other. At the same time, improving your physical health can also benefit your mental health, and vice versa. It is important to make healthy choices for both your physical and mental well-being.
Remember that wellness is not the absence of illness or stress. You can still strive for wellness even if you are experiencing these challenges in your life.
What Are the Eight Dimensions of Wellness?
1. Emotional
Coping effectively with life and creating satisfying relationships
PhotoVoice
This 8-minute online video poignantly captures the essence of the Photovoice experience through interviews with Photovoice participants and through highlights of the works they created.
2. Environment
Good health by occupying pleasant, stimulating environments that support well-being
Hope Gallery
Artists and Allies in Recovery The Hope Gallery is a recent development at the Center for Psychiatric Rehabilitation. The walls of the Services Division now serve as an avenue for artist in recovery and artists who support recovery to display their artwork.
3. Financial
Satisfaction with current and future financial situations
4. Intellectual
Recognizing creative abilities and finding ways to expand knowledge and skills
5. Occupational
Personal satisfaction and enrichment from one's work
A resource for employers and educators with practical information about reasonable accommodations for people who have psychiatric disabilities. This website describes how a psychiatric disability can affect performance at work or school, describes accommodations, and demonstrates with scenarios.
This one-page fact sheet, designed for distribution to the general public, highlights the message employment for individuals with serious mental illnesses. Seeking Improved Employment Outcomes for Individuals with Psychiatric Disabilities.
6. Physical
Recognizing the need for physical activity, healthy foods, and sleep
National Disability Navigator Resource Collaborative (NDNRC)
A new website to help people with signing up for insurance through the Affordable Care Act Marketplaces.
The NDNRC is an initiative aimed at providing cross-disability information and support to Navigators and other enrollment specialists thereby ensuring people with disabilities receive accurate information when selecting and enrolling in insurance through the Affordable Care Act Marketplaces.
7. Social
Developing a sense of connection, belonging, and a well-developed support system
8. Spiritual
Expanding a sense of purpose and meaning in life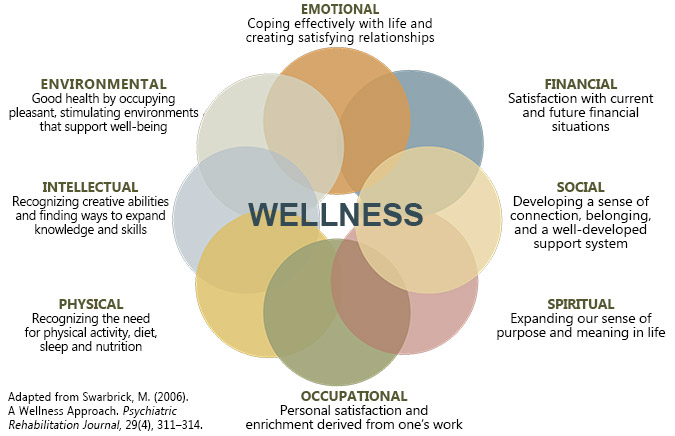 Resources:
http://www.samhsa.gov/wellness-initiative/eight-dimensions-wellness 
1 Dunn, H.L., (1961)High Level Wellness, Beatty Press: Arlington, VA.