Contact Us
---



For information about the program contact Courtney Joly-Lowdermilk, NITEO Manager cjoly@bu.edu or 617-483-3827.
For information about submitting application materials contact Stephanie Cummings, Recovery Center Manager stephc13@bu.edu or 617-353-1124.
For information about submitting an on-line payment contact Michelle Reynolds, Operations Manager mareynol@bu.edu or 617-353-3549.
Center for Psychiatric Rehabilitation
940 Commonwealth Ave. West
Boston, MA 02215
The entrance to the building is accessed via Pleasant Street and staff offices and classrooms are located on the first and second floors of the building.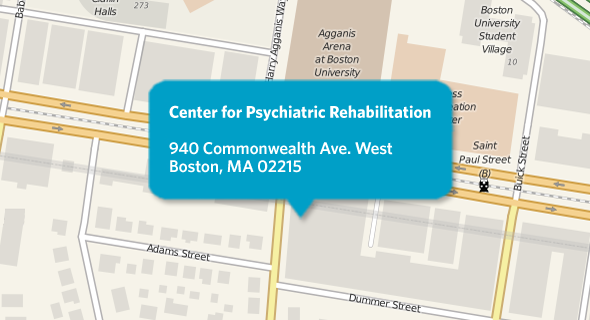 The Services Division at the Center for Psychiatric Rehabilitation is an inspiring educational environment where persons who have had behavioral health experiences find hope, become empowered by actualizing their dreams through setting goals to live, learn, work and live well in their chosen communities. Participants are "students" who work with faculty and "Coaches" who help them achieve their goals successfully and with satisfaction. Students gain knowledge, skills and supports to live their lives fully. The Center does not provide medical treatment: We do not prescribe or deliver medications or therapy.