Listening: A Critical Skill
Instructors
Patricia B. Nemec, PsyD, CRC, CPRP
patnemec@patnemec.com | see profile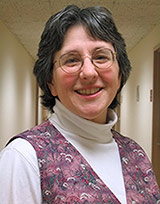 Pat Nemec is an internationally recognized trainer in psychiatric rehabilitation, and was the director of the academic specialization in psychiatric rehabilitation at Boston University (now closed). She has played an important role on curriculum development team for the Boston University Center for Psychiatric Rehabilitation as well as for regional training projects in psychiatric rehabilitation and academic curriculum development for undergraduate and graduate programs in health and rehabilitation sciences. As an active contributor to the US Psychiatric Rehabilitation Association, Pat was a key member of the task force groups that developed the USPRA Language Guidelines and the most recent revision of the USPRA Multicultural Principles. She is the current Vice President of the Commission responsible for the Certified Psychiatric Rehabilitation Practitioner program, and a founding member of the Consortium of Psychiatric Rehabilitation Educators.


Anne Sullivan Soydan, Sc.D.
Boston University
Rehabilitation Counseling Program
635 Commonwealth Avenue
Boston, MA 02215
617/353-2726
apsoydan@bu.edu
Online Seminar Description
Listening, the most basic of the interpersonal skills that form the foundation of our relationships, is an essential competency for practitioners. This online seminar emphasizes assessment and training in listening.
This seminar opens with an introduction to the importance of interpersonal skills in general, and listening skills in particular, to the practice of psychiatric rehabilitation. Language use will be discussed, emphasizing "person-first" language as an indication of respect. The components of listening will be presented, using outlines that identify the "teachable" behaviors and steps that contribute to effective listening. As part of the design for an interactive workshop, participants will assess their own listening skills and set a goal for improvement. Each participant will be provided with copies of materials for use in assessing and training program staff, along with a list of additional resources. Suggestions will be made for adapting the materials for use in an interpersonal skills training curriculum offered to consumers as part of a psychiatric rehabilitation program.
Because the values, principles, and promoted practices of psychiatric rehabilitation include partnership, respect, and the development of interpersonal competencies, this online seminar addresses a key competency area. There is an ongoing need to tune-up, refine, and troubleshoot individual interpersonal skills, especially those used in daily communications. A repertoire of effective communication skills must include knowledge of what makes them break down. Specifically, when and where and how does well-intentioned communication go awry in a psychosocial rehabilitation setting? And what can be done to fix it? Can problems be prevented? The purpose of this online seminar is to answer these questions with specific examples and strategies, using examples elicited from participant input, to provide tools to diagnose, prevent, and treat communication bloopers.
It is anticipated that seminar participants will achieve the following goals:
Participants will learn the basic components of listening.
Participants will have an opportunity to assess their own listening skills.
Participants will set a learning goal to improve their listening skills.
Participants will list the categories of bloopers.
Participants will asses one's own "blooper prone-ness."
Participants will implement some strategies to minimize occurrence and effect
Participants will receive copies of material suitable for use in training others in listening skills, and list of resources.
All materials and handouts are included with the course registration fee. These materials are available for download in accessible formats.
Requirements
After participating in the online seminar, complete the evaluation form and sent it to:
Sue McNamara, MS, CRC, CPRP
Director, Professional Development Program
Boston University, Center for Psychiatric Rehabilitation
940 Commonwealth Avenue West, 2nd Floor
Boston, MA 02215
After the evaluation form is received, you will be awarded a certificate of participation for 5 PDP Hours. Professional Development Program hours may be used for continuing education purposes.
Register
Registration for the PDP Online Seminar, Listening: A Critical Skill is $25.00. Registration provides access to course lecture pages, downloadable course handouts and materials, and a certificate of participation for 5 PDP Hours (if the above criteria are met).Click "Add to cart" image on the right register online for the Online Seminar, Listening: A Critical Skill.

If you would prefer to register by mail or fax, please use this printable registration form.

Consult the Professional Development Program Online Seminars webpage for registration policies and procedures.

Consult the Professional Development Program webpage for continuing education information.
Mental health consumers and their families are eligible for a 20% discount on the Online Seminar, Listening: A Critical Skill ($20). Click the yellow button on the right to add the discounted registration of Online Seminar, Listening: A Critical Skill to your shopping cart.
Additional Information
---