Recovery Books
---

This icon denotes a personal story in Recovery
---
Supporting the Journey of Recovery in Mental Health: A Guide for Support Workers, Family/Whanau and Friends

This book is primarily directed at support workers to assist them in acquiring the attitudes, knowledge and skills needed to support individuals with serious mental illnesses. In New Zealand, a mental health support worker is a non-clinical provider who assists individuals to live in recovery and integrate into the community by developing and maintaining a social/family network, being in control of illness management, having a social life, getting an education and being employed.
by Caril Cowan (2008). Dunmore Publishing LTD.
---
Recovery from Schizophrenia: An International Perspective


This book examines schizophrenia from an epidemiological and anthropological perspective and is a comprehensive report and discussion of the findings of the World Health Organization's (WHO) International Study on Schizophrenia (ISoS). The book is the first of its kind, combining research data with clinical and anthropological perspectives, resulting in a comprehensive, global examination of schizophrenia and other serious psychotic disorders. This book will give readers a deeper understanding of the data that provide the foundation for hope in recovery from schizophrenia.
Edited by Kim Hopper, Glynn Harrison, Aleksander Janca, & Norman Satorius (2007). Oxford University Press.
---
A Fight to Be: A Psychologist's Experience from Both Sides of the Locked Door



This book is a memoir written with considerable personal experience and passion consisting of two parts- the lived experience of psychiatric disability and the integration of knowledge derived from living and working both as a consumer and a professional.
by Ronald Bassman (2007). Tantamount Press.
---
The Center Cannot Hold: My Journey through Madness



This remarkable memoir was written by a remarkable woman who was able to achieve so much and at such high levels despite having episodes of psychosis. The book includes detailed accounts of treatment in both the United States and the United Kingdom along with the consequences of medication while striving continuously to maintain a professional life.
by Elyn R. Saks (2007). Hyperion.
---
Free to Fly: A Story of Manic Depression



This book brings a unique view of what it is like to live with manic depression, and survive the treatment system, in the context of the Chinese culture. The author's experience portrays the stigma that individuals with mental illness experience from friends, employers, and family and provides important insight into how mental illness is viewed within the Chinese culture.
by Caroline Fei-Yeng Kwok (2006). Inclusion Press.
---
Journeys of Despair, Journeys of Hope: Young Adults Talk About Severe Mental Distress, Mental Health Services and Recovery

This New Zealand Mental Health Commission research project is a narrative study of contemporary young adults' encounters with mental health services, focusing on:
* their experiences of severe mental health problems
* their use of adult mental health services, and
* factors that helped or hindered their recovery.
by Heather Barnett and Hilary Lapsley (2006). Wellington: Mental Health Commission.
---
Recovery from Severe Mental Illnesses: Research Evidence and Implications for Practice, Volume 1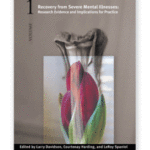 This book presents over 30 years of accumulating evidence that challenges the long-held view that severe mental illnesses typically follow a deteriorating course. Recovery from Severe Mental Illnesses: Research Evidence and Implications for Practice—Volume 1 demonstrates that people with severe mental illnesses achieve higher levels of role functioning, adjustment, and subjective well-being than previously thought.
by Larry Davidson, Courtenay Harding, & LeRoy Spaniol (2005). Boston: Boston University Center for Psychiatric Rehabilitation.
---

Recovery from Severe Mental Illnesses: Research Evidence and Implications for Practice, Volume 2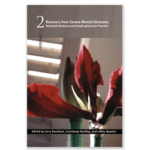 Volume 2 explores the range of interventions that have been found to promote recovery for people with serious mental illnesses, including psychiatric rehabilitation, community integration, treatment, case management, and advocacy.
by Larry Davidson, Courtenay Harding, & LeRoy Spaniol (2006). Boston: Boston University Center for Psychiatric Rehabilitation.
---
The Hillside Diary and Other Writings


Robert Neugeboren's story was first told in Imagining Robert written by his brother Jay. In The Hillside Diary and Other Writings, Robert shares his diary and selected letters and poems over a period of many hospitalizations. Robert's story gives a vivid, personal perspective of psychiatric treatment along with his family's struggle to overcome the frustrations of living with mental illness.
by Robert Gary Neugeboren, edited with introduction by Jay Neugeboren. (2004). Boston University Center for Psychiatric Rehabilitation. Boston, MA.
---
In Recovery: The Making of Mental Health Policy


In this book, Jacobson draws on her research in Wisconsin, a state with a long history of innovation in mental health services. Her study there included several years of fieldwork and interviews with the government-appointed groups charged with making recovery policy. The book also provides an inside account of the process of policy development and implementation.
by Nora Joacobson. (2004). New York, NY: Vanderbilt University Press.
---
This is Your Life! Creating Your Self-Directed Life Plan

The University of Illinois at Chicago National Research & Training Center. Description: This easy-to-use workbook helps people with psychiatric disabilities think about, choose, plan for, and act on a life goal, with supports of their own choosing. The workbook has as its foundation both person-centered planning and the "stages of change" model. It guides people in mental health recovery to see that life change is a process, with natural twists and turns along the way.
Prepared by Jessica A. Jonikas, M.A., and Judith A. Cook, Ph.D. (2004). University of Illinois at Chicago
National Research & Training Center on Psychiatric Disability.
---
Pathways to Recovery: A Strengths Recovery Self-Help Workbook

This workbook uses the metaphor of a journey to take the reader through a process of exploration, self-discovery, and planning that helps to set life goals and realize personal dreams. The book promotes recovery in the domains of life such as having a sense of home, increasing knowledge and education, finding work or volunteer activities that bring satisfaction, developing meaningful relationships with others, achieving intimacy and enhancing sexuality, attaining higher levels of wellness, and exploring spirituality.
by Priscilla Ridgway, Diane McDiarmid, Lori Davidson, & Julie Bayes. (2002). University of Kansas School of Social Welfare, Office of Mental Health Research & Training. Auburn Hills, MI: Data Reproductions Corporation.
---
The Recovery Workbook II: Connectedness

This book is intended for leaders and students who have experience with The Recovery Workbook and can be used as part of a training, course, or seminar, or by groups and individuals for self-study. The workbook presents knowledge, skills, and values related to connectedness with oneself, with others, with our environments, and with a larger meaning or purpose in life. The Leader's Guide for this workbook is also available.
by LeRoy Spaniol, Richard Bellingham, Barry Cohen, & Susan Spaniol. (2003). Boston: Boston University Center for Psychiatric Rehabilitation.
---
Recovering your Mental Health Self-Help Booklets
Free PDF Downloads

This series of self-help guides offers practical and positive advice for making lifestyle changes to positively affect emotional well-being, and for building strong relationships. Booklets are available free of charge by calling SAMHSA's Clearinghouse at 1-800-789-2647; TTY 301-443-9006 or logging on to http://www.samhsa.gov.
Free PDF Downloads:
Building Self-esteem; Vol. 5, SMA-3715
Making and Keeping Friends; Vol. 6, SMA-3716
Dealing with the Effects of Trauma; Vol. 7, SMA-3717
Developing A Recovery and Wellness Lifestyle; Vol. 8, SMA-3718
Speaking Out for Yourself; Vol. 9, SMA-3719
Action Planning for Prevention and Recovery; Vol. 10, SMA-3720
by Mary Ellen Copeland. (2002). SAMHSA, Center for Mental Health Services
---
The Social Network Resource Group in Sweden: A Major Ingredient for Recovery in Severe Mental Illness

This book chapter discusses interventions for families of adults with major mental illnesses within the integrated care program in Gothenburg, Sweden.
by Jeanette Jonsson and Ulf Malm. (2002). In H. Lefley and D. Johnson (ed), Family Interventions in Mental Illness: International Perspectives (pp. 93-103). Westport, CT: Praeger Publishers/Greenwood Publishing Group, Inc.
---
Personal Assistance in Community Existence

This 34-page manual is for consumers, providers and families and can be used as an alternative to the Program of Assertive Community Treatment (PACT). This manual includes such information as how people recover from mental illness, the Empowerment Model of Recovery, and results of research into recovery.
by Laurie Ahern and Dan Fisher. (1999). Lawrence, MA: National Empowerment Center.
---
Surviving Mental Illness: Stress, Coping, and Adaptation

This book discusses the experience of mental illness from a variety of perspectives including: one's experience of psychosis, sense of self, family relationships, and the recovery process.
by Agnes B. Hatfield and Harriet P. Lefley. (1999). Guilford Press.
---
Transforming Madness, New Lives for People Living with Mental Illness


In Imagining Robert, Jay Neugeboren told the story of his family's struggle against mental illness. In this book he presents an overview of mental health care in America including what's wrong, what's right, and how we can realize the promise of new hope and healing.
by Jay Neugeboren (1999). William Morrow and Company Inc.
---
Spirituality and Religion in Recovery from Mental Illness


The psychiatric literature suggests that religion and spiritual issues are significant and meaningful forces in the lives of people with mental illness, yet they are often overlooked as a bridge to recovery. This edited collection of articles provides an overview of the current thinking on the interconnections between spirituality and religion, and psychiatric rehabilitation.
by Roger D. Fallot (Editor). (1998). Jossey Bass Publishers.
---
Imagining Robert, My Brother, Madness, and Survival: A Memoir



This memoir tells the story of two brothers and of how their love for one another has enabled them not only to survive, but to thrive in miraculous, surprising ways.
by Jay Neugeboren. (1997, paperback 2003). Rutgers University Press.
---
New Vision of Recovery: You Too Can Recover From "Mental Illness"
In this book, Dr. Fisher provides an explanation of self-managed care, the values he lives by, strategies helpful in healing his "mental illness", and how to connect and harmonize with people.
by Daniel B. Fisher. (1997). National Empowerment Center, Lawrence, MA.
---

This book presents a system developed and used successfully by people with a variety of physical and emotional symptoms. It has helped people use self-help skills more easily to monitor symptoms, decrease the severity and frequency of symptoms, and improve quality of life.
by Mary Ellen Copeland (1997). Peach Press.
---
An Unquiet Mind



This book describes Kay Redfield Jamison's personal struggle since adolescence with manic depression, and how it shaped her life. Jamison, a psychologist and professor of psychiatry at Johns Hopkins University, discusses the importance of medication used in conjunction with psychotherapy and how this combination of treatment controls her illness and has enabled her to succeed.
by Kay Redfield Jamison. (1995). Alfred A. Knopf., Inc.
---
The Experience of Recovery


This book describes accounts of persons who have experienced psychiatric disability and how they have struggled and coped to develop a more solid sense of themselves, their relationships, their living, learning, and working environments.
by LeRoy Spaniol and Martin Koehler. (1994). Boston University Center for Psychiatric Rehabilitation, Boston, MA.
---
Recovery workbook: Practical coping and empowerment strategies for people with psychiatric disability

A resource for professionals, family members, and consumers/survivors, this book is designed to help people who experience psychiatric disability begin the process of recovery. The Leader's Guide for this workbook is also available.
by LeRoy Spaniol, Martin Koehler, & Dori Hutchinson. (1994). Boston: Boston University Center for Psychiatric Rehabilitation.
---
Nobody's Child



This book describes Marie Balter's story of hope and healing. After spending the first twenty years of her adult life in a mental hospital, she was able to attend graduate school at Harvard University and become a leading champion for the mentally ill.
by Marie Balter and Richard Katz. (1987). Perseus Books, Cambridge, MA.
---