---
Photovoice is an empowering tool that has been used in a variety of settings and among different constituencies, including communities of people with psychiatric disabilities. PhotoVoice puts cameras in the hands of individuals and asks them to produce statements made up of pictures and words that communicate their experience. This empowering tool enables people at the grassroots level without access to decision-makers to represent and define issues of concern, areas of strength, and targets for change—all of which are routinely defined by health specialists, policy makers, or professionals.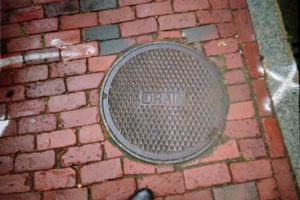 The drain calls to me because of all the hurtful things people have said to me over the decades about my mental illness. In sum, I have been told that I am a drain on the nation, a drain on society, and a drain on multiple individuals' resources. Over the years, I have come to believe this, which has been a drain on me. Education about mental illness (and the effects of trauma) should be able to reach out to the general public, as well as healthcare professionals. Knowledge and understanding can be powerful weapons in combating stigma.
More examples of Photovoice works
Find out more . . .
This curriculum, consists of a workbook, a leader's guide, and the DVD, Beyond the Shadow of Stigma. The workbook leads students through the PhotoVoice process step-by-step, while the leader's guide provides comprehensive instruction in leading PhotoVoice workshops.
This newsletter describes how the PhotoVoice is being used as an intervention through the Recovery Education Program at the Center for Psychiatric Rehabilitation.
Voices of Recovery is a combination of stories and Photovoice projects, which includes a photograph and a short narrative explaining the personal meaning behind the picture from the photographer's point of view.
These posters were produced by people in recovery as part of a peer-led training curriculum to help fight currents of ignorance, prejudice, and discrimination around mental health issues.