Group Process Guidelines for Leading Groups and Classes
LeRoy Spaniol, Sue McNamara, Cheryl Gagne, and Rick Forbess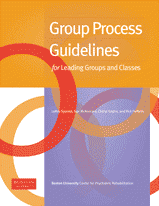 Price: $34.95

   $17.47



(pdf file)

Audience: Recommended for use by supervisors, program directors, teachers, peer leaders, and practitioners as a teaching tool for staff training. It also may be used as a self-guided workbook by new or experienced group leaders to improve their own skills in leading groups and classes.

---
Description
While some leaders are skilled in teaching or in group process, many group leaders lack sufficient training and experience in facilitating groups and classes effectively. Many group leaders are new to the process of leading groups; and many group leaders were never formally trained in the skills of conducting a group, but rather they learned how to run a group on-the-job by observing a co-worker or a supervisor. This book provides some guidelines for teachers and leaders of groups that are knowledge-based or skills-based, but they are not designed for facilitating a support or therapy group.
Regardless of the type of group being led, all groups require the leaders to perform skills before the group in preparation for the group or class, during the group while conducting the group or teaching the class, and afterthe group for following-up the group or class activities. This book is organized into sections that outline these preparation, delivery, and follow-up skills.  Information is included that explains this series of group process skills as well as some examples and exercises to practice the skills. Throughout the book you will be asked to think of a group or class that you currently lead or are planning to lead in the future. Be specific about identifying a particular group or class that will be the focus for your practice exercises throughout this workbook. At the end of each chapter is a checklist that may be used by individual group leaders as a self-assessment tool to assess their own group process skills, and it may be used by supervisors as an evaluation tool.
Citation: Spaniol, L., McNamara, S., Gagne, C., & Forbess, R. (2009). Group process guidelines for leading groups and classes. Boston: Boston University Center for Psychiatric Rehabilitation.
---
Product Details
Spiral/Paperback: 90 Pages
Published: 2009
Product Dimensions: 8.5 x 11 inches
ISBN-13: 978-1-878512-43-7
Table of Contents
Chapter 1: Planning for the Group Activity
Chapter 2: Conducting the Group Activity
Chapter 3: Encouraging Participation
Chapter 4: Promoting Peer Leadership
Chapter 5: Following Up the Group Activity
Authors

 LeRoy Spaniol, PhD, retired in 2004 as Senior Director at the Center for Psychiatric Rehabilitation.  He holds a doctoral degree in Rehabilitation Counseling from the University of Wisconsin, Madison, and has 41 years of experience in the mental health field as counselor, advocate, program developer, administrator, and educator.  Dr. Spaniol was the Founder and Executive Publisher of the Psychiatric Rehabilitation Journal and is currently a Consulting Editor for the Journal. He has taught as an Adjunct Full Professor in the Department of Rehabilitation Counseling at Boston University.  He also founded and taught in the Recovery Center, a rehabilitation program for people with psychiatric disabilities at the Center for Psychiatric Rehabilitation.  He is currently President of NAMI of Cape Cod and serves on the Affordable Housing Committee for the Town of Wellfleet, MA.  Dr. Spaniol has published 18 books and many book chapters and articles about psychiatric rehabilitation, recovery, and families.
---
 Sue McNamara, MS, began her career in 1978 providing services for people with psychiatric disabilities in community programs, and in 1985 she began teaching the skills of psychiatric rehabilitation to providers in the mental health field. For 15 years, Ms. McNamara worked as an Adjunct Clinical Assistant Professor in the Rehabilitation Counseling Program at Sargent College of Health and Rehabilitation Sciences at Boston University. She has co-authored several articles and curricula on psychiatric rehabilitation. Currently, Ms. McNamara is the Director of the Professional Development Program, which offers various options for continuing education through the Center for Psychiatric Rehabilitation. She also works as the Product Specialist in the Publications Division at the Center and is involved in developing and marketing products, monitoring inventory and sales, and providing customer service.
---
 Cheryl Gagne, ScD, has been with the Center for Psychiatric Rehabilitation since 1988 when she joined the Supported Employment Research Project Team.  Since then she has worked in numerous research, training, and service projects at the Center.  Currently, Dr. Gagne is a senior training associate and spends her time training and consulting with mental health programs in the United States and internationally.  She is the associate director of the Services Division of the Center, which develops, delivers, and evaluates innovative services for people with psychiatric disabilities. She has developed many training programs and courses for mental health professionals and people who use mental health services. Since 1994, Dr. Gagne has taught the course, Rehabilitation of Persons with Psychiatric Disabilities, at Boston University.
---
 Rick Forbess, MSSW, is currently the Associate Director of Training at the Center for Psychiatric Rehabilitation at Boston University. He began his career as a provider, supervisor, and manager in community mental health centers in Texas and Maine. He received his Masters of Science Degree in Social Work from the University of Texas at Arlington in 1978 and joined the Center for Psychiatric Rehabilitation as a Senior Training Associate in 1985. Since that time he has provided training and technical assistance to a wide range of mental health agencies throughout the United States and Canada in order to implement psychiatric rehabilitation, person-centered service planning, and other services guided by values considered central to facilitating a person's recovery from mental illness. He has developed and assisted with the development of training technologies, manuals, guides, and program curricula and has co-authored published articles and book chapters on psychiatric rehabilitation and case management.
Reviews
Currently, there are no published reviews for this product. If you would like to write an endorsement, please send it to Sue McNamara at: suemac@bu.edu
Keyword Search
Use the keywords below to explore categories of information or general topics. If you know the specific topic/keyword you are looking for, type it into the search bar below.